Hit 'n' Run
Tony Upson percussion /vocals & Chris Jobson keyboards / sax / flute / harmonica /vocals
Hit íní Run are a local hard-working duo, popular for playing a wide range of music styles, playing many songs that are well-known, but not often played by other bands.
Tony Upson of ITVís recent Fat Club series plays an electronic percussion kit and handles all the lead vocals, and multi-instrumentalist Chris Jobson plays keyboards, Saxophone, flute, harmonica and an electronic wind instrument.
Tony, originally from London is a drummer by trade but after touring the U K circuit, backing household-name acts, met up with Chris Jobson, originally from Newcastle-Upon-Tyne and formed a four-piece function band, and as each member left, they were replaced with the aid of electronics.
Chris has toured the world playing all his instruments in big bands, and would join a headline tour at the drop of a hat anywhere in the world. Sting, Matt Monroe, Shirley Bassey etc have all benefited from Chris Jobsonís musical skills.
Catch Hit íní Run at a venue near you soon. Contact them on this website, or e-mail
---
Latest News
Hi Everybody,

Just a note to bring you up to date with things.

We've just finished our album 50/50 - so-called because both Chris & I have just reached the ripe old age of 50!! It's an album of covers as currently featured on our live performances. We will be selling the album at gigs from the end of January.

We are still working regularly, but one gig coming up that may be of interest will be on June 26th 2004, when we will be supporting Showaddywaddy at The Metropolitan Police Centre, Chigwell in a marquee, for around 1200 people. Other acts are due to appear, including Kiki Dee, but as yet not confirmed

Speaking of Kiki Dee, my mate Tony Rivers sang with her at the Live Aid Concert when they backed Elton John & George Michael, and in October, I played drums with Harmony Grass and Tony Rivers & The Castaways, and a DVD of the event will be available in the next couple of months - available through Tony Rivers website - you have the details.
All going well I'll be playing with them again in the summer in Los Angeles - details not yet confirmed.

Regards,

Tony
---
Tony requests that the person who adds the letter "S" before the group's name "Hit 'n' Run" on publicity posters, please refrain from doing so.
Chris attended an "Enchantment Under The Sea" dance recently, and pulled a muscle.
---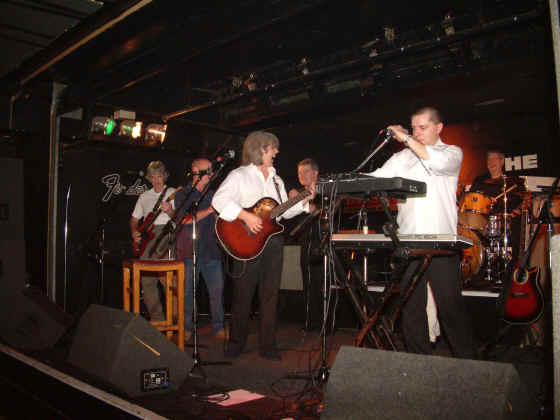 Tony Upson pictured at the Cavern Club, Liverpool with Tony Rivers' Band
---