Picture 1 taken in the summer of 1962 shows the very first incarnation of The Trekkas. Clockwise from top left the line-up was Ron Baird (bass), Martyn Day (rhythm), Barry Fairbrother (lead guitar) and a very nice bloke called Roger on drums. Close observation will show that Ron has a little label on his guitar with his name on it – just in case he forgot. Martyn is sporting an early example of the "Beatle Cut".
---

Picture 2 is a rare and damaged photograph of The Trekkas in action in the winter of 1962 at The Frith in Welwyn. The line up from left to right is Ron Baird (bass) Roger Nice-Bloke (drums) Martyn Day (rhythm) and Barry Fairbrother (lead). Barry played a Burns Trisonic Guitar with a knob that said "Wild Dog Treble"! Wow! Anoraks will also note our matching home made amplifier cabinets (nice!) and a Watkins Copicat Echo unit-unit-unit-unit-unit-unit-unit-unit .....
---

Picture 3 taken in 1965 shows the final and definitive Trekkas line-up caught as they clambered out of the back of Selmers Music Shop after the Great Guitar Robbery. From left to right they are:- Ken Caylor (drums), Ron Baird (bass), Martyn Day (rhythm) Mick Casey (lead), Mick Simmons (vocals) and Angela Penketh (keyboards). Fashion students might care to note the Madras cotton jackets, 'slim jim' knitted ties, hipster trousers and 'tab collared' shirts. Mick Simmons, always a fashion leader, preferred the ever popular 'herbaceous border' neckwear.
---

Picture 4 is The Trekkas at leisure. This picture was taken early one Sunday morning in the car park outside Welwyn Department Stores (now John Lewis). The Welwyn Garden City Council office building is in the rear of the picture. The car park has since been replaced by a roundabout. The line up from left to right is Martyn Day, Mick Casey, Ken Caylor, Ron Baird, Mick Simmons and Angela Penketh.
---

Picture 5 is 40 years on and this is what Martyn Day looks like now, playing squeezebox with the Crane River Cajuns.
---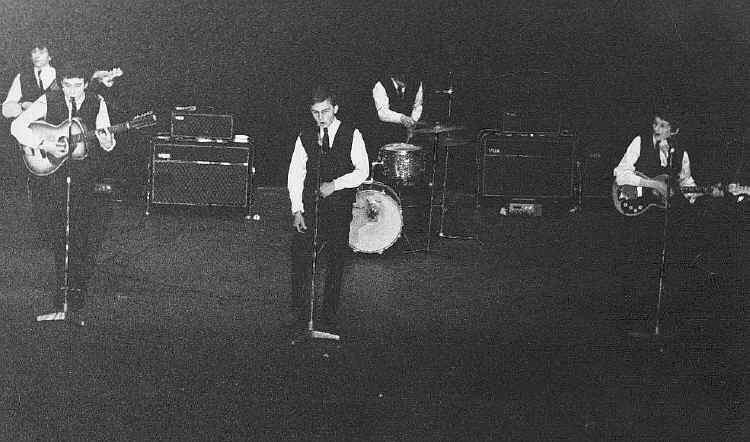 Picture 6 shows The Trekkas playing at the Watford Palace Theatre during a local Beat Group competition. Unfortunately the photographer cropped out our lovely keyboard player Angela. Those with a musical bent will notice that while Mick Casey is playing a 'C' chord, Martyn is hammering away on the chord of 'A' ... and so the legendary Trekkas sound was born! (Note from Rex Bird - I swapped my Stella 12 string, bought because Leadbelly played one, for Martyn's Levin 6 string. Only later did I realise it had a warped neck - but then Martyn probably realised later that the Stella was the cheap American catalogue version of Leadbelly's guitar!) The reason for the discrepancy (Mick Casey playing 'C' and me playing 'A') was I couldn't tune the Stella 12 string guitar up to concert pitch so played it 3 semi tones lower. I spent more time transposing than I did actually playing the darned thing! During the 60's I went to see an R&B band called The Moquettes at a youth club in WGC. The Moquettes were an early version of the Fairies with Phil May on vocals and Twink on drums. Rex turned up with Donovan Leitch (Sunshine Superman, Mellow Yellow, Jennifer Juniper, Hurdy Gurdy Man) about a nanosecond before he became a star - Donovan that is, not Rex! I was always impressed by that!
To see more pictures of the band - click here.
---
The Trekkas History
The Trekkas grew out of a group called The Druids who like most other bands in 1961 mainly played instrumentals. I only passed the audition with the band in Barry Fairbrother's back bedroom because I knew the chords to "Peace Pipe"! The original line up was Barry Fairbrother (lead), Ron Baird (bass) Martyn Day (rhythm), Pip Bolt (drums) and Sean Ryan (vocals and acrobatics). Early in 1962 after a disastrous gig in Brookman's Park – the only place I've been to where they had bouncers on the door chucking people IN – we decided to change personnel and our name. Possible ideas included "The Thin Red Line", "Rasputin and the Disputing Four" and "Far Canal". My own favourite was "Far Canal" but decided against it when we heard it said out loud! We settled on The Trekkas.

All photographs and comments provided by Martyn Day

Other 60's group and information pages
| BlueNotes | Cortinas (Octopus) | Herbal Remedy | Mixed Bag | The Ultimate | 60's Local Music Scene | Radio London 266 |


| Pic 1 | Pic 2 | Pic 3 | Pic 4 | Pic 5 | Pic 6 | History | Page 2 |